• FILMS • 2010 •
The Battle Of The Ssangyong Workers
(Doro-Chiba Support Committee, 2009, 22 min)
Korea's fifth largest automaker Ssangyong's attempt to lay off workers was met with 900 employees barricading themselves in the factory to "die together" or receive guarantees of reinstatement. Workers laid down arms and agreed to end their 77-day sit-in only after much bloodshed and extreme militant activism.
This video is posted on YouTube.
Bound For Glory
(Hal Ashby, 1976, 149 min)
Set against the grim backdrop of depression America, this film joyously celebrates the life of Woody Guthrie, America's great folk balladeer and poet. He left his dust-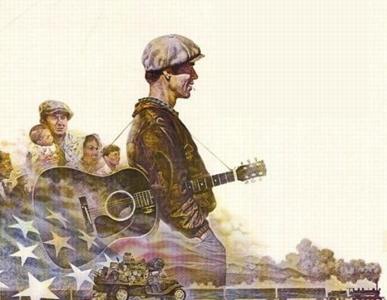 devastated Texas home in the 1930s to find work, and discovered the suffering and strength of America's working class. As he traveled across America, his buoyant spirit and soul-rousing music surrounded him with a quiet strength enabling him to do battle with the social injustice which surrounded him. Based on the Woody Guthrie autobiography.
Link to Internet Media Database webpage on Bound for Glory.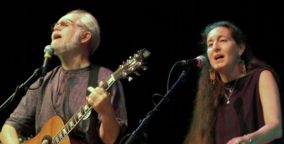 Brother Can You Spare a Dime?
(Charlie King & Karen Brandow, 2009, 55 min)
Folk singers in a workshop performance piece brings the political history of the U.S. alive in song, images and first person narratives. This workshop examines the 1930's – from the Great Depression, the Dust Bowl, the rise of the CIO, to the build-up to World War II – a history of people's dreams and struggles for a better world, presented in PowerPoint images, dramatic readings and powerful songs.
Link to Charlie King's website.
Claim Your Change
(Kyle Thiermann, 2009, 4 min)
Surfers become environmental activists. Mounting a campaign to save a beach in Chile, they show us how we shape the world by how we choose to allocate our dollars.
Link to webpage for the Claim Your Change movie.
Coal Country
(Phyllis Geller, 2009, 85 min)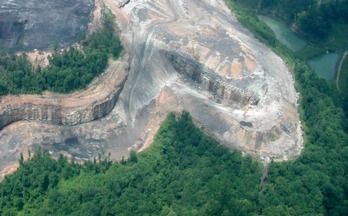 The story of the dramatic struggle around the use of coal, which provides over half the electricity in the U.S. Passions are running high in the mountains of Appalachia. Families and communities are deeply split over what is being done to their land by the latest form of strip mining called mountaintop removal, or MTR. Coal companies blast the tops off mountains and run the debris into valleys and streams, filling air and water with chemicals, and an ancient mountain range is disappearing forever.
Link to website for the Coal Country movie.
Food, Inc.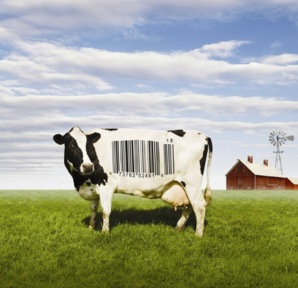 (Robert Kenner, 2009, 94 min)
The veil on our nation's food industry is lifted, exposing the highly mechanized underbelly that has been hidden from the American consumer with the consent of our government's regulatory agencies, USDA and FDA. Our nation's food supply is now controlled by a handful of corporations that often put profit ahead of consumer health, the livelihood of the American farmer, the safety of workers and our own environment. We have bigger-breasted chickens, the perfect pork chop, herbicide-resistant soybean seeds, even tomatoes that won't go bad, but we also have new strains of E. coli – the harmful bacteria that causes illness for an estimated 73,000 Americans annually. We are riddled with widespread obesity, particularly among children, and an epidemic level of diabetes among adults. Narrated by Michael Pollan (The Omnivore's Dilemma).
Link to website for the Food, Inc. movie.
Hazel Dickens: It's Hard to Tell the Singer from the Song
(Mimi Pickering, 2002, 57 min)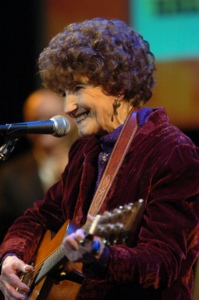 From the coalfields of West Virginia to the factories of Baltimore, Hazel Dickens has lived the songs she sings. A pioneering woman in Bluegrass and hardcore country music, Hazel has influenced generations of songwriters and musicians. Her songs of hard work, hard times, and hardy souls have bolstered working people at picket lines and union rallies throughout the land. Her piercing vocals power the soundtracks for Harlan County USA and Matewan. The Washington Post described her as "a living legend of American music, a national treasure," and in 2001, the National Endowment for the Arts awarded her a National Heritage Fellowship. In this intimate portrait, interviews with Hazel and fellow musicians such as Alison Krauss, Naomi Judd, and Dudley Connell are interwoven with archival footage, recent performances, and 16 powerful songs including Mama's Hand, Working Girl Blues, and Black Lung.
Link to Appalshop's webpage on the Hazel Dickens film.
Heart of the Factory
(Virna Molina & Ernesto Ardito, 2008, 129)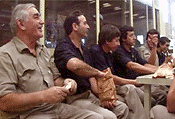 A group of workers, men and women, inhabitants of the Argentinean Patagonia, begin a fight to stop the deaths and accidents that happen in the factory where they work. In a poor country looted by its own governments and businessmen, the workers of Zanon Ceramic take the factory in their own hands when the owner closes it. They start to produce ceramics again, but without bosses. Now, they feel free. But at the same time, they have to assume the responsibilities and challenges of self-management. Together with the inhabitants of the nearby town who support them, workers have resisted four attempts of evictions. They do not consider themselves as the new owners of the ceramic factory, but on the contrary, they consider the surrounding community as the rightful owner, and they give back in donations to the most needed sectors the surplus that the factory produces. Every day they have to fight against a political and economic system that tries to boycott them. But their biggest obstacle is their own fear of inadequacy inculcated by their society. As they create new forms of relationship at work, they are freeing their humanity.
Link to Argentine website for Corazon de Fabrica.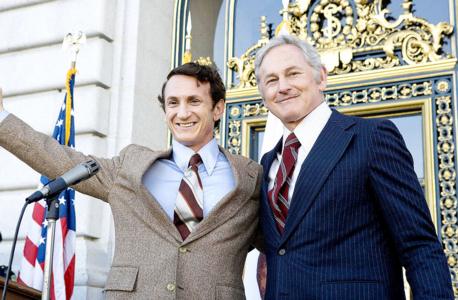 Milk
(Gus Van Sant, 2008, 129 min)
This biographical film on the life of gay rights activist Harvey Milk follows his pioneering work in LGBT politics in the '70s when he builds a gay-labor coalition and takes on city hall. He becomes the first openly gay man to be elected to public office in California, and one of the first three in the United States as a whole, as a member of the San Francisco Board of Supervisors. The young activist Cleve Jones is portrayed in the film by Emile Hirsch.
Link to Wikipedia website on the Milk film.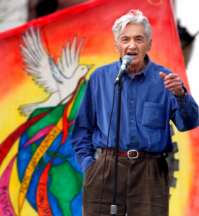 The People Speak
(Howard Zinn & Tony Sacco, 2010, 110 min)
Using dramatic and musical performances of the letters, diaries and speeches of everyday Americans, the documentary feature film The People Speak gives voice to those who spoke up for social change throughout U.S. history, forging a nation from the bottom up with their insistence on equality and justice.

Narrated by acclaimed historian Howard Zinn and based on his best-selling books, A People's History of the United States and, with Anthony Arnove, Voices of a People's History, The People Speak illustrates the relevance of these passionate historical moments to our society today and reminds us never to take liberty for granted.

The People Speak is produced by Matt Damon, Josh Brolin, Chris Moore, Anthony Arnove, and Howard Zinn, co-directed by Moore, Arnove and Zinn, and features dramatic and musical performances by Allison Moorer, Benjamin Bratt, Bob Dylan, Bruce Springsteen, Chris Robinson, Christina Kirk, Danny Glover, Darryl "DMC" McDaniels, David Strathairn, Don Cheadle, Eddie Vedder, Harris Yulin, Jasmine Guy, John Legend, Josh Brolin, Kathleen Chalfant, Kerry Washington, Lupe Fiasco, Marisa Tomei, Martín Espada, Matt Damon, Michael Ealy, Mike O'Malley, Morgan Freeman, P!nk, Q'orianka Kilcher, Reg E. Cathey, Rich Robinson, Rosario Dawson, Sandra Oh, Sean Penn, Staceyann Chin, and Viggo Mortensen.
Link to website for the People Speak.
Race to Nowhere
(Vicki Abeles, 2009, 85 min)
A look at the fast passed world of children in our schools, the impact of NCLB on teachers, and how the Race to the Top may fail our students.
Link to website for the Race to Nowhere film.
Rethink Afghanistan
(Robert Greenwald, 2009, 75 min)
The film makes the case that at a time when the country faces a damaged reputation abroad and economic catastrophe at home, continuing the expanded the war in Afghanistan without debating a comprehensive exit strategy is a serious mistake. After eight years, what's the mission? What's the Exit Strategy?
Link to website for the Rethink Afghanistan film.
Time To Tackle Climate Change
(SustainLabour, 2009, 20 min)
The International Trade Union Confederation showcases trade unions' concrete experiences, challenges, and commitments for action on climate change. Union officials' messages emphasize that the environment, employment, and a just transition to a sustainable economy are all part of the same fight.
Link to website for SustainLabour.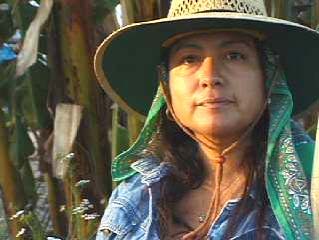 The Garden
(Scott Hamilton Kennedy, 2008, 80 min)
South Central LA residents organize to save their fertile piece of Eden from development. At 14 acres, their community garden is the largest of its kind in the U.S. Started as a form of healing after the devastating L.A. riots in 1992, the South Central Farmers have since created a miracle in one of the country's most blighted neighborhoods, growing their own food, feeding their families, and creating community. The film follows the urban farmers' response as bulldozers are poised to level their oasis. Academy Award nomination for best documentary feature.
Link to website for The Garden film.
Watsonville On Strike
(Jon Silver, 1989, 65 min)
The mostly Mexican-born women cannery workers in Watsonville's frozen food packing industry refuse to put up with pay cuts or their own Teamster Union's sweetheart deals. Their walkout draws national attention, crowds of supporters, and notables including Cesar Chavez and Jesse Jackson. The 18-month strike drags on to a bittersweet victory. Filmmaker Silver, an unabashed partisan, captures every significant development in the struggle with an intimacy rare in documentary film.
Link to Migrant Media Project's webpage on Watonville On Strike.
What's the Economy For, Anyway?
(John de Graaf, 2009, 40 min)
An edgy and timely critique of our consumer-driven model of economic growth and its supreme cost to our planet and the quality of our lives. It reminds us that the purpose of our economy is to serve people, not for the people to serve the economy.
Link to Bullfrog Films webpage on What's the Economy For, Anyway?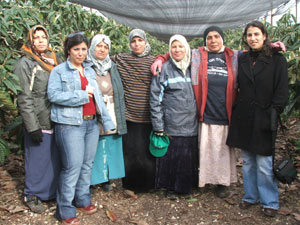 Who Will Pick the Avocados?
(Shiri Wilk, 2007, 22 min)
An international trade-union delegation studies the labor market in Israel's agricultural sector. The six delegates hail from the US, Spain, Germany and Thailand. Invited by The Workers Advice Center, they witness a sector that is manipulated by profit-driven personnel companies in a context of volatile political conflict. The Israeli filmmaker presents the hardships of three groups: local Arab women, thirsty to improve their life by finding work; Thais who arrive bonded by huge debts, ready to compete for jobs at any cost; and Palestinians stuck behind the separation wall.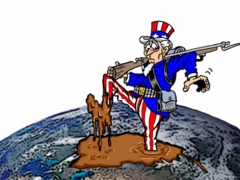 Why Are We In Afghanistan?
(Michael Zweig, 2010, 28 min)
Current U.S. involvement is put in historical perspective, showing more than a century of military interventions undertaken to support the interests of big business. Nothing in the military budget reverses the trend of wages for U.S. workers, which have been falling for more than 35 years. The cost of current wars, as is shown, eats up close to 50 percent of the discretionary budget, taking away money from schools, housing, health insurance, and other pressing needs. We are asked why should we believe that an escalated war in Afghanistan is of any benefit to U.S. workers?
Link to Center for the Study of Working Class Life webpage on Why Are We In Afghanistan?