• SPEAKERS, FILMMAKERS & PERFORMERS • 2013 •
Linda Turner Bynoe received her Ed.D. in International Multicultural Education. She has lectured through out the United States and at the Cuban Association for the Analysis of Contemporary Education in Cuba. Her trips to Cuba illuminate her work promoting education for a culture of peace.
Paula Joan Caplan, Ph.D. is a clinical research psychologist at Harvard University's DuBois Institute working on their Voices of Diversity project. An author, playwright and activist, she is challenging the harm caused by psychiatric labeling. Her latest book, When Johnny and Jane Come Marching Home: How All of Us Can Help Veterans, reveals the way many people traumatized by war are classified as "mentally ill."
Margarita Cortez joined Loaves and Fishes in January, 2011. Born of farm worker parents in Watsonville, she is the youngest in a family of ten. She earned her BA in Political Science with a minor in Global Peace and Security. Margarita is bi-lingual and brings a wealth of experience to Loaves and Fishes. With eight years in human resources administration, she honed her leadership and facilitation skills in corporate, political, and non-profit organizations. As a volunteer she has implemented service learning projects, taught English as a second language, mentored teens, and organized food and clothing drives for needy families.
Ken Dickerson first became involved with the Ecological Farming Association nearly twenty years ago as a volunteer for the EcoFarm Conference. This led to participation on the Conference Planning Committee, staff, and the Board of Directors. Ken worked for ten years as a high school ecological agriculture instructor in Santa Cruz County bringing EcoFarm to school with a garden, greenhouse and culinary program. Ken now serves as the Executive Director, working with the association to continue to realize a healthy, safe and socially just food and farming system. Ken is working to actualize models of associative economics through the food and farming system that can provide for social and economic justice.
Mark Dworkin and Melissa Young are seasoned documentary producers who have produced a broad range of films on social and environmental issues which have won prestigious awards from many festivals including Women in Film/Seattle and International Wildlife Festivals. These films are in broad circulation in academic and community settings and 5 have been broadcast nationally on PBS stations. Good Food, broadcast in 2010, takes a look at the expanding sustainable food and farming system in the Pacific Northwest. Argentina Turning Around, which screened at Reel Work in 2009, examined worker run factories that arose in Argentina several years after a severe economic collapse.
Brooke Johnson serves as the Chief Operations and Programs Officer for Second Harvest Food Bank Santa Cruz County. She was previously the Executive Director of Pajaro Valley Loaves and Fishes and also conducted participatory homeless research in California and Nevada for Applied Survey Research. She holds an M.S. in Community Development from UC Davis and a B.A. in Geography from UC Berkeley. Johnson serves on the Board of Directors of Dientes and the advisory boards for the Notre Dame AmeriCorps team serving the Pajaro Valley, of which she is an alumna, and Project Homeless Connect Santa Cruz County. She is a lifelong resident of Watsonville.
Jóvenes Sanos, a project of Go For Health!, is a Watsonville based youth advocacy project seeking to increase opportunities for healthy eating and physical activity for young people of Watsonville through implementing long-term environmental policy and system change. The group is working in three sectors of the community to address this public health issue: city planning, markets, and schools.
Sam Mayfield is a video journalist and documentarian from Burlington, VT. She has filed video reports for Democracy Now!, Free Speech TV, GritTV, The Uptake, Towardfreedom.com, and other progressive media outlets. She was arrested filming the Madison protests against Governor Scott Walker. Ms. Mayfield is dedicated to making media that challenges the existing corporate media paradigm and that sheds light in dark places.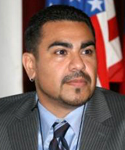 Héctor Perla Jr., Ph.D. is Assistant Professor in the Latin American & Latino Studies Department at UCSC. He earned his degrees at Stanford and UCLA. His studies of revolutionary and social movements, particularly Central Americans' historical and present struggles, shed light on the powerful role that ordinary people, even traditionally marginalized political actors, can play in resolving political of conflicts. He remains active in various Central American support organizations.
David Sweet taught Latin American & World History at UCSC for thirty years and was a co-founder of Witness for Peace. In retirement, he's been active with the ACLU, Death Penalty Focus, the Community Action Board & other local organizations. These days, his main work is helping to build the Alliance for Human Rights in Santa Cruz County and producing & hosting its program Human Rights Here Now on Community Television of Santa Cruz County.
Triangle Speakers, a program of The Diversity Center, is an educational speakers bureau for Santa Cruz County that provides hundreds of panels to classrooms and organizations each year. Its speakers, volunteers, and staff are concerned individuals who work to eliminate homophobia - the fear, prejudice, hatred, and discrimination against gays, lesbians, bisexual, transgender and queer people - so that a healthy environment exists for all members of our community. Members of the Triangle Speakers include counselors, health educators, parents, college students, business people, members of the faith community - people of all walks of life.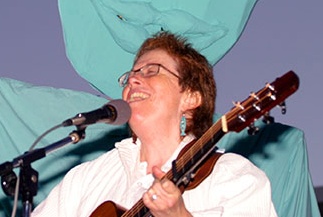 Aileen Vance, accomplished singer and songwriter, member of the American Federation of Musicians, Local 1000, and Santa Cruz native, shares Pete Seeger's fondness for encouraging others to sing, which she does masterfully as director of the Santa Cruz Peace Chorale.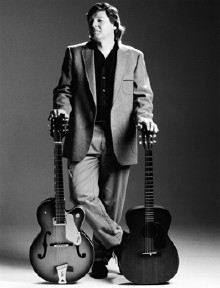 David Winters has been performing professionally for more than 20 years. An accomplished vocalist and guitarist, he is an officer in the American Federation of Musicians, Local 153, and long-time coordinator of the Western Workers Labor Heritage Festival. He has performed at Reel Work events since its inception.