• 2020 SELECTIONS OFFERED VIRTUALLY •
June 19—23, 2020
The film below was the topic of an online discussion with the filmmaker on June 23.
THE BALLAD OF JOHN HENRY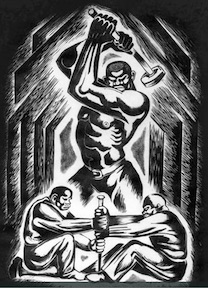 Watch The Ballad of John Henry with password pollyann
(Matt Rice, 2019, 50 min, USA)
This documentary film analyzes how an ex-slave became one of America's greatest tall tale heroes. Based on Scott Reynolds Nelson's book, Steel Drivin' Man, this story presents a new perspective on a famous tall tale often taught in classrooms around the U.S. The film sheds new light on an unjust legal system developed after the Civil War replacing slavery with a new labor-based economy, the convict lease program.
Watch The Ballad of John Henry with password pollyann.
June 10—18, 2020
The films for this week focused on Anti-Racism and were presented in collaboration with the Watsonville Film Festival. The Long Shadow was the topic of an online discussion with the filmmaker on June 18.
THE LONG SHADOW

Watch The Long Shadow
(Frances Causey, 2019, 87 min, USA)
As a white woman, the filmmaker bravely explores her family lineage and connection to slavery. The film adeptly reveals the history of legalized slavery in the US over the last 400 years. If you are white, Frances' story is YOUR story. We have an obligation to understand how we have been brainwashed and trained to systemic racism in such a way that we don't even recognize it when it's a part of our everyday existence.
13TH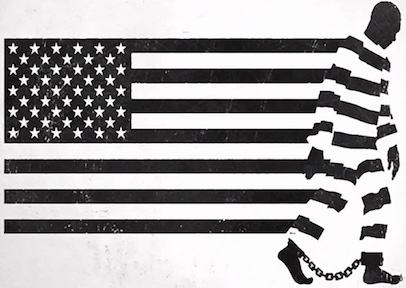 Watch 13th
(Ava DuVernay, 2016, 100 min, USA)
From slave to criminal with one amendment.
Watch 13th on YouTube.
STAY WOKE: The Black Lives Matter Movement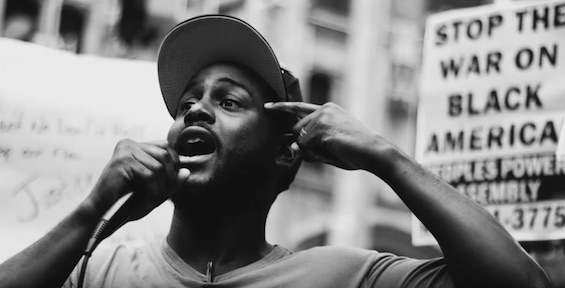 Watch Stay Woke
(Laruens Grant, 2016, 39 min, USA)
The evolution of the BLM movement through the accounts of local activists, protesters, scholars, and journalists.
Watch Stay Woke on YouTube.
I AM NOT YOUR NEGRO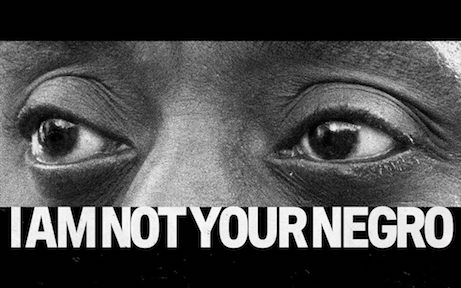 Watch I Am Not Your Negro on Kanopy
(Raoul Peck, 2016, 95 min, USA)
The book James Baldwin never finished, a radical narration about race in America, drawing on the writer's original words on the lives and assassinations of Medgar Evers, Malcolm X, and Martin Luther King Jr.
Watch I Am Not Your Negro on Kanopy.
THE BLACK PANTHERS: Vanguard of the Revolution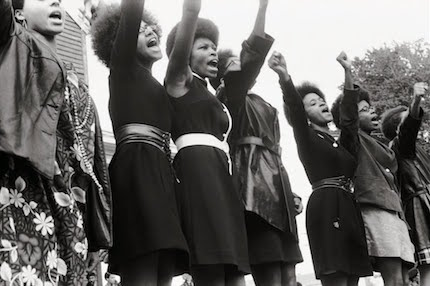 Watch The Black Panthers
(Stanley Nelson, 2016, 115 min, USA)
An immersive documentary that sheds light on the party that was loved and hated, misunderstood and mythologized.
Watch The Black Panthers on PBS.
THE WATERMELON WOMAN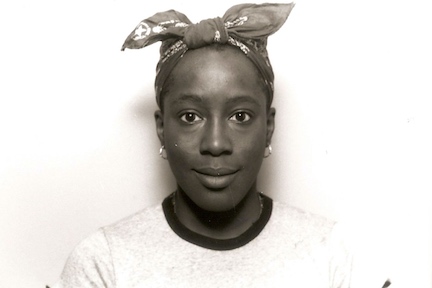 Watch The Watermelon Woman
(Cheryl Dunye, 1996, 85 min, USA)
A bitingly funny, deeply personal feature debut, and a landmark look at the black lesbian experience.
Watch The Watermelon Woman on the Criterion Channel.
DOWN IN THE DELTA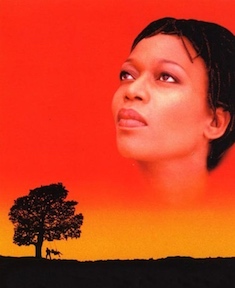 Watch Down In the Delta
(Maya Angelou, 1998, 112 min, USA)
The legacy of slavery, resilience, strength and joy infuse this family drama.
Watch Down In the Delta on the Criterion Channel.
June 2—9, 2020
The film below was the topic of an online discussion with the filmmaker on June 9.
WAGING CHANGE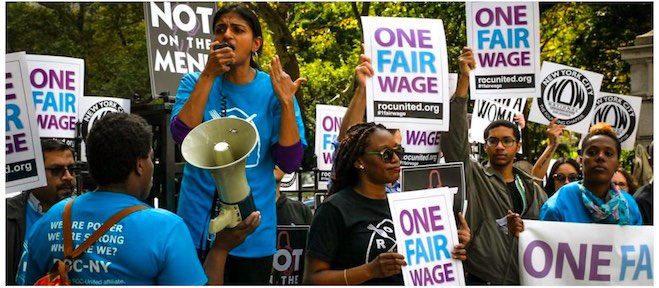 Watch Waging Change with password: waging2020
(Abby Ginzberg, 2019, 61 min, USA)
Two female-driven movements are woven together in this film that reveal American workers' struggle hidden in plain sight—the effort to end the federal tipped minimum wage of $2.13 for restaurant servers, and bartenders and the #MeToo movement's efforts to end sexual harassment. The film shines a spotlight on the challenges faced by restaurant workers, 70% of whom are women, trying to feed themselves and their families on tips, and the growing movement to end the tipped minimum wage, spearheaded by Restaurant Opportunities Centers (ROC-United). That the federal tipped minimum wage has remained at $2.13 an hour since 1991 is due to the power and influence of a trade lobby, the National Restaurant Association, known as "the other NRA." Through the personal stories of workers such as Nataki Rhodes of Chicago, Wardell Harvery of New Orleans and Andrea Velasquez of Detroit, we come to see and experience the everyday challenges these workers face in trying to make ends meet, clarifying the need for One Fair Wage in the 43 states that do not require restaurants to pay their workers minimum wage.
Watch Waging Change on Vimeo with password: waging2020.
May 27—June 2, 2020
The film below was the topic of an online discussion with the filmmaker on June 2.
THE MOMENT WAS NOW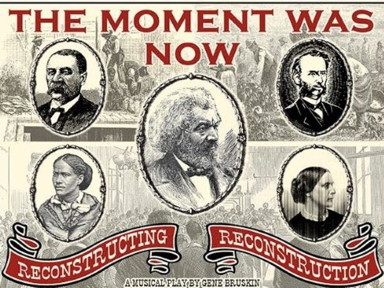 Watch The Moment Was Now
(Gene Bruskin: playwright, Darryl! Moch: director, Mike Wicklein: filmmaker, 2020, 111 min, USA)
An historical musical set in 1869 Baltimore telling the story of a fictional meeting called by Frederick Douglass including Susan B. Anthony, William Sylvis, Issac Myers & Frances Ellen Watkins Harper with Jay Gould hovering around. A live stage performance was filmed for this production.
Watch The Moment Was Now on YouTube.
May 20—May 26, 2020
The film below was the topic of an online discussion with the filmmaker on May 26.
TIME THIEVES

Watch the trailer for Time Thieves
(Cosima Dannoritzer, 2018, 85 min, International)
Forget water, oil and rare minerals—there is a new resource everyone wants: our time. From printing our own boarding passes and checking our own luggage to generating income with our page views and mouse clicks, this film reveals how companies and social networks monetize our time without our knowledge, making our time their business model.
Watch the trailer for Time Thieves on Vimeo.
May 12—May 21, 2020
Co-sponsored by Reel Work and Watsonville Film Festival, watch this film online.
THE INFILTRATORS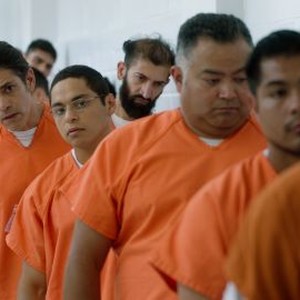 Watch The Infiltrators online
(Note: $10 charge supports Watsonville Film Festival.)
(Alex Rivera and Cristina Ibarra, 2019, 95 min, USA)
A docu-thriller that tells the true story of young immigrants who get arrested by Border Patrol, and put in a shadowy for-profit detention center—on purpose. Marco and Viri are members of the National Immigrant Youth Alliance, a group of radical Dreamers who are on a mission to stop deportations. And the best place to stop deportations, they believe, is in detention. However, when Marco and Viri try to pull off their heist7mdash;a kind of "prison break" in reverse—things don't go according to plan.
Watch The Infiltrators online (Note: $10 charge supports Watsonville Film Festival.)
May 12—May 19, 2020
The films below were the topic of the online discussion with the filmmaker on May 19.
THE BEST OF BOTH WORLDS: Cohousing's Promise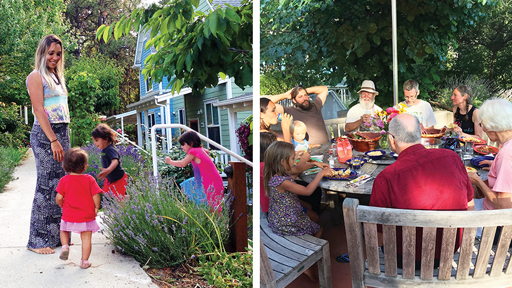 Watch the trailer for The Best of Both Worlds
(John de Graaf, 2019, 27 min, USA)
While visiting Denmark, American Architect Charles Durrett learned about an idea to resolve many of the deficiencies inherent in the design of modern neighborhoods, called Cohousing. Where there had been isolation because of allowing privacy concerns to dominate a concept, cohousing created an orderly, cooperative basis for community in which adults could socialize as they choose, and children have greater freedom to play safely. There could be sharing of land and maintenance chores, but each resident and their family owned or rented a discrete space. There could be greatly improved use of environmental resources, and yet the community didn't have a feeling of deprivation.
Watch the trailer for The Best of Both Worlds on Vimeo.
COYOTE CROSSING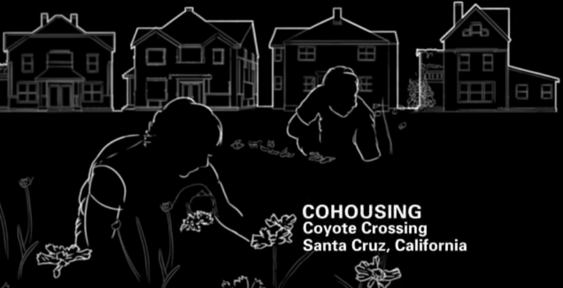 Watch Coyote Crossing
(Lisa Landers & Erica Berg, 2007, 5 min, Santa Cruz)
Residents of a cohousing community in Santa Cruz by the same name made this short film, which is on permanent display at the National Housing Museum's exhibition House & Home in Washington, DC.
Watch Coyote Crossing on YouTube.
May 6—May 12, 2020
The film below was the topic of the online discussion with the filmmaker on May 12.
CUBANAS: MUJERES EN REVOLUCIÓN / Cuban Women in Revolution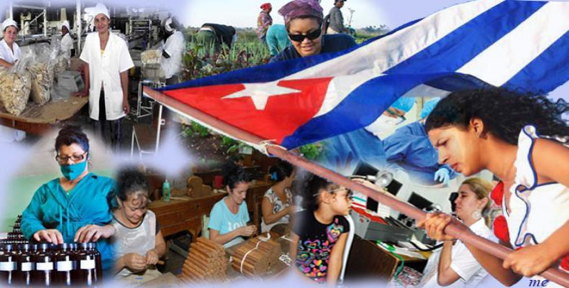 Watch Cubanas: Mujeres en Revolución online. Enable subtitles by clicking CC.
(Maria Torrellas, 2018, 84 min, Cuba)
This film evokes the continuous role of women in the Revolution, both in the guerrilla struggle and in the construction of the new Cuban society through the testimonies of heroines such as Vilma Espín, Celia Sánchez and Haydée Santamaría, the founding figures of the Revolution, and also of contemporary women from different sectors of Cuban society. Reflections and life experiences show how these women were nourished by the values built in the revolutionary struggle in the late 1950s.
Watch Cubanas: Mujeres en Revolución online (Note: enable subtitles by clicking the CC button on the Vimeo control bar.)
April 28—May 5, 2020
The films below were the topic of the online discussion on May 5.
SUPPRESSED: The Fight To Vote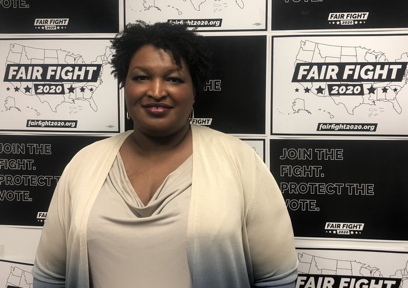 Watch Suppressed
(Robert Greenwald, 2019, 38 min, USA)
This documentary weaves together personal stories from voters across the state of Georgia to paint an undeniable picture of voter suppression in the 2018 midterm election where Stacey Abrams fought to become the first Black female governor in the U.S. The issues Georgians faced included polling place closures, voter purges, missing absentee ballots, extreme wait times and a host of voter ID issues7mdash;all of which disproportionately prevented many students and people of color from casting their ballots. Highlighting of the issues has led to a robust voter rights reform movement.
CORONAVIRUS CAPITALISM And How To Beat It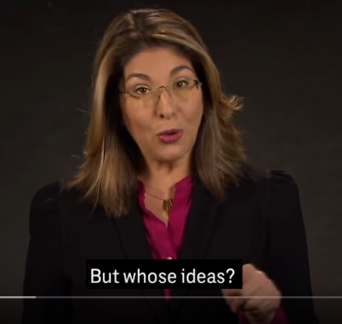 Watch the short film Coronavirus Capitalism
(Naomi Klein, 2020, 9 min, USA)
In the Intercept magazine's short film, the author of The Shock Doctrine puts Milton Friedman's axiom in current perspective: "Only a crisis—actual or perceived—produces real change. When that crisis occurs, the actions that are taken depend on the ideas that are lying around."
Watch Coronavirus Capitalism online
FOODIE FOR THE PEOPLE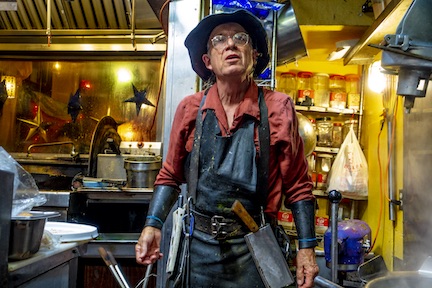 Watch the short film Foodie For The People
(Jon Silver, 2020, 5 min, Santa Cruz)
Sneak preview of a film in production about Jozseph Schultz, the indefagetable chef who created Inda Joze and feeds the people at many events for social justice.
Watch Foodie for the People online
No Dates Set Yet
No screenings have been scheduled yet for the films below which have been selected for Reel Work 2020.
WHAT HAPPENED TO DUJUAN ARMSTRONG? <!img src="images/DujuanArmstrong.jpg"/>
Trailer for What Happened to Dujuan Armstrong?
(Lucas Guilkey, 2019, 26 min, USA)
In this documentary, when a young man mysteriously dies in Santa Rita jail, his mother, Barbara Doss, begins a determined quest to find out the truth of what happened to him and to get justice, but quickly runs into the opaqueness and power of jails and sheriffs in the United States. Barbara says, "If it takes to the day of my passing, I'm gonna get justice."
KNOCK DOWN THE HOUSE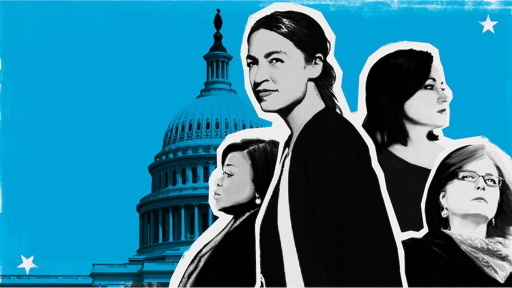 Trailer for Knock Down the House
(Rachel Lears & Robin Blotnick, 2019, 86 min, USA)
Four women House of Representative candidates' campaigns in 2018, including that of Democratic Socialists of America member Alexandria Ocasio-Cortez. The film received a 5-minute standing ovation at Sundance.
SUMMONED: Frances Perkins and the General Welfare

Trailer for Summoned
(Mick Caouette, 2019, 60 min, USA)
Perkins was the first woman to serve in a Presidential cabinet. She was the driving force behind Social Security, 40 hour work week, mimimun wage and unemployment insurance. Congress tried unsuccessfully to impeach her.
THE NINE LIVES OF BARBARA DANE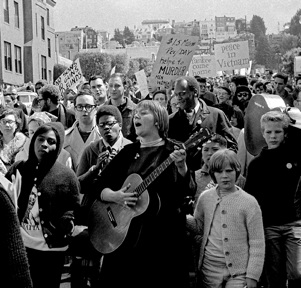 Trailer for Nine Lives of Barbara Dane
(Maureen Gosling, in production, 43 min, USA)
This documentary film, which is presented under its working title while still in production, illuminates the true story of Barbara Dane, a trailblazing woman and an unsung hero of American music: blues, jazz and folk singer, social activist, wife, mother of three, world traveler, feminist, record producer, maverick and general troublemaker. Barbara Dane, a fiercely independent woman, born in the 1920s, took the power of her voice from the bright lights of jazz and blues celebrity to the tumultuous streets of 1960s America, paving her own way with her art, in the service of social justice, civil rights and peace. Still going strong in her early 90s, Dane's dynamic contemporary life offers a jumping off point to recount how she turned many setbacks into opportunities, and provides deep inspiration for generations of musicians and activists.
THE FEMINIST ON CELLBLOCK Y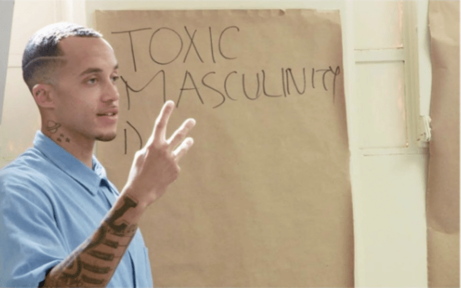 Trailer for Feminist on Cellblock Y
(Contessa Gayles, 2018, 75 min, USA)
This documentary shows men incarcerated in Soledad State Prison using the Success Stories program to explore feminism and vulnerability, and to challenge patriarchy, violence, toxic masculinity, and objectification of women. Richard "Reseda" Edmond-Vargas stated: "We cannot challenge our harmful behavior without challenging patriarchy." Vargas and his wife Taina Vargas-Edmond, co-founders of Initiate Justice, developed the program with others, including bell hooks, feminist social critic and author; and Patrisse Cullors, cofounder of #BlackLivesMatter and Dignity and Power Now. Cullors, Richie's mentor, wrote, "This documentary is about a human being who wasn't given up on. This is what transformative justice looks like."
NO TIME TO WASTE—The Urgent Message of Betty Reid Soskin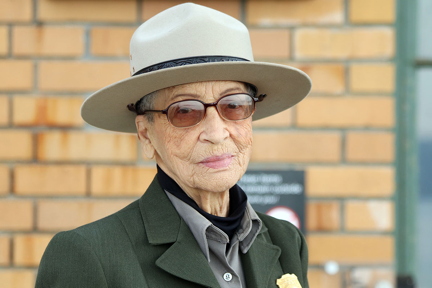 <!a href="http://-/" target="_blank">Trailer for No Time to Waste
(Carl Bidleman, 2019, 50 min, USA)
This tribute examines Betty Reid Soskin's mission to restore critical missing chapters of America's story. The film follows her journey from kitchen stool in a tiny theater to media interviews and international audiences who hang on every word she utters. The documentary captures the 98-year-old park ranger's fascinating life pathway—from the experiences of a young worker in a WWII segregated union hall, through her multi-faceted career as a singer, activist, mother, legislative representative and park planner to her present public role as the oldest Park Ranger at the Rosie the Riveter/WWII Home Front National Historical Park. Thanks to the Rosie the Riveter Trust for permission to show this important film.
STORIES BEYOND BORDERS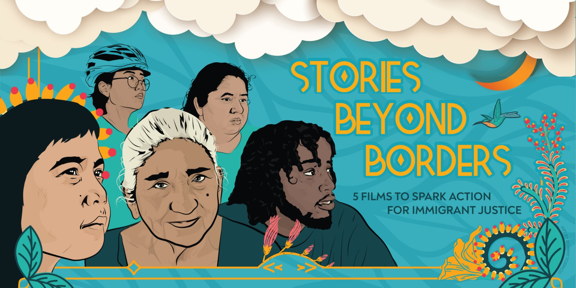 Trailer for Stories Beyond Borders
(Working Films, 2019, min, USA)
An organizing initiative that uses five short films to show a more complete picture of the attacks on immigrant families and communities. Beyond building empathy, these short films lift up real stories of resilience and strength, while illustrating some of the ways people can give their time, energy, and resources to support organizing led by immigrant communities.
SOCIALISM: An American Story

Trailer for Socialism
(Yael Bridge, in production, feature length, USA)
The resurgence of socialism in the United States, its vibrant and suppressed history, and why it might just be our very best hope of building a better world out of the misery of capitalism.
WILDCAT! <!img src="images/.jpg"/>
Trailer for Wildcat! -->
(Jordan Freeman, 2020, In production, Santa Cruz)
Graduate student TAs shoulder a major burden of the teaching load at UC Santa Cruz, but they can't afford to live in the community. After their statewide union, UAW Local 2865 was unable to secure a satisfactory compensation package, UCSC grad students initiated a wildcat grading strike in December 2019, escalating to a full teaching strike in February. UCSC fired 54 students, which only fired up the protest and solidified the unity of grads, undergrads and faculty as the strike spread to other campuses.
OFF THE TABLE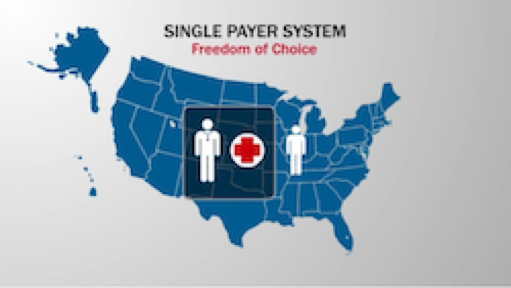 Watch the short film Off The Table
(Unions for Single Payer, 2018, 23 min, North America)
Makes the case for a single payer, improved Medicare for All healthcare system with interviews of union members in Canada and the United States. Produced by Unions for Single Payer Health Care.
PEOPLE LIKE ME

Trailer for People Like Me
(Unions for Single Payer, 2018, 23 min, North America)
Autistic culture and the medical perspective of autism are at odds. The gold standard interventions for autism lauded by medical and educational professionals alike is considered abusive by the autistic community. This film allows nonspeaking autistic people to speak out against the intervention that seeks to make them normal, and declare their pride in being members of a community and culture that sees autism as a natural and just part of human diversity.
THIS LAND IS YOUR LAND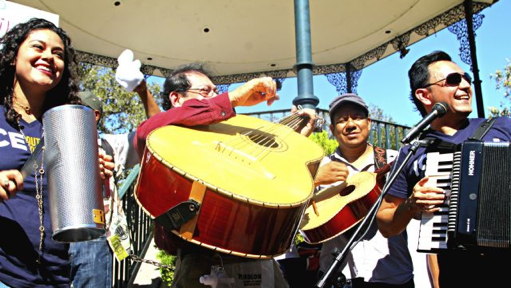 Watch this short video This Land Is Your Land
(Los Jornaleros del Norte, 2018, 5 min, USA)
A performance of Woody Guthrie's classic by a band of immigrant day laborers that gives it new meaning.
THE WASTED EFFORT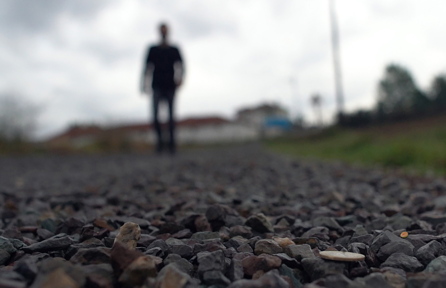 Watch the short film The Wasted Effort
(Muhammed Bozbey, 2019, 5 min, Turkey)
All the human toil and natural resources that came together to create a loaf of bread become apparent when the leftover crust is discarded.