• FILMS SYNOPSES • 2004
Modern Times (Director: Charlie Chaplin, 1936, digitally restored 2003, 87 min)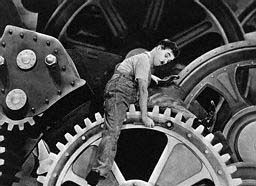 Chaplin's masterpiece, without question the last great silent film, made when everyone else was making talkies, is filled with sound effects—the screeches, groans, and grinds of the machines—that speak against modern society, the machine age, and progress. The Little Tramp gets trapped in the coils of automation in this corrosive satire on the dehumanizing effects of technology. Despite its pre-occupation with Depression-era poverty and starvation, the film comes off as a lighthearted comedy.
Link to Film Forum page for Modern Times.

A Day´s Work, A Day´s Pay (Producer: Jonathan Skurnik, 2002, 57 min)

This documentary follows three welfare recipients in New York City from 1997 to 2000 as they participate in the largest welfare-to-work program in the nation. When forced to work at city jobs for well below the prevailing wage and deprived of the chance to go to school, these individuals decide to fight back, demanding programs that will actually help them move off of welfare and into jobs.
Link to New Day Films page for A Day´s Work, A Day´s Pay.

At the River I Stand (Directors: David Appleby, Allison Graham & Steven Ross, 1993, 56 min)

This classic documentary recaptures the 1968 struggle for economic justice among Memphis' sanitation workers, who earned so little they qualified for welfare. In the film, retired workers recall their fear as they challenged the white power structure when they went on strike for higher wages and union recognition. The black community mobilized behind the strikers, organizing mass demonstrations and an Easter boycott of downtown businesses. In March of 1968, Martin Luther King traveled to Memphis as part of his "Poor People's Campaign" to expand the civil rights agenda to include economic justice. King planned to march again on April 8, 1968, but was assassinated four days earlier. A nonviolent march was held nonetheless, leading to the city council granting most of the strikers' demands. At the River I Stand was described in the Dallas Observer as "one of the most clearheaded, evenhanded documentaries about the civil rights movement you'll ever see, and a piece of gripping storytelling as well."
Link to California Newsreel page for At the River I Stand.

Shots on the Docks (Producer: Steve Zeltzer, 2003, 28 min)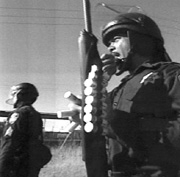 The stepped up repression of anti-war demonstrators and trade unionists took a new turn in the U.S. on April 7, 2003, when Oakland, California police attacked a peaceful picket on the docks. The Labor Video Project was there when Oakland police fired over a hundred shots of rubber bullets and wooden projectiles as well as concussion grenades to attack the anti-war protest. This video interviews the workers on the picket line as well as ILWU longshoremen who were standing by and were also targeted by the police and the company. It goes behind the pictures to expose the reasons that trade unionists joined the line and the reaction of ILWU Local 10 members to the attacks and arrests of their business agent. There is also an international campaign to defend ILWU BA Jack Heyman and the Oakland 25 who face criminal charges for the April 7 incident.
Link to ILWU Jack Heyman's web site.

Miami 2003: Your Tax Dollars at Work (Director: Lisa Mastramico, 2003, 12 min)
<!IMG SRC="images/miami.jpg" WIDTH="150"> During the week of November 17, thousands of people converged in Miami to demonstrate their opposition to the proposed Free Trade Area of the Americas, which was being negotiated behind closed doors. What we found when we arrived was an extremely arrogant and militarized police force that had received over $10M in tax dollars, which they used to make it very clear what one would face if they wanted to protest—peacefully or not. However you feel about free trade, you should care about what happened on the streets of Miami in November of 2003.
<!a href=http://www.miami target=_blank> <!Link to Film Forum page for <!i> <!Miami 2003: Your Tax Dollars at Work.

Friends or Foe (Director: Jiyoung Lee, 2003, 119min)
<!IMG SRC=./images/korea.jpg WIDTH="150"> When KT (Korean Telecommunication) initiated the structural adjustment plan in 2000, the non-regular workers became the main target for their so-called downsizing. Although the targeted workers launched the new union of their own, eventually 7,000 workers were fired altogether. In December, the struggle began and the workers continued the struggle by any means necessary for 517 days, they finally lost in the midst of the oppression by the police and the betrayal by the regular workers. Friend or Foeis a detailed document of their struggle which exposes the serious situation broadly imposed by globalization on the workers being compelled to accept non-regular status and provides a critical analysis of the weakness of the current labor movement. Directed by award-winning female director Jiyoung Lee who won the Best documentary prize at 2002 Pusan International Film Festival with On the Right Trackabout the railway workers struggle for democratizing the trade union. Produced by Labor News Production, Seoul.
<!a href=http://www.labor news target=_blank> <!Link to Film Forum page for <!i> <!Friend or Foe.

Fiat Respect (Director: Regan Brashear, 2003, 30 min)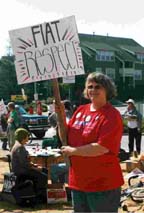 Live footage of the historic statewide strike by clerical workers in the Coalition of University Employees (CUE) and lecturers in the University Council-American Federation of Teachers (UC-AFT) who protested at five campuses against the abundant unfair labor practices of the University of California. This fast-paced film focuses on the strike at the UCSC campus, highlighting the tremendous solidarity that emerged between campus and local unions, students, and community members.
<!a href=http://www.filmforum.com/films/modern.html target=_blank> <!Link to Film Forum page for <!i> <!Fiat Respect.

Not for Sale: Lessons from the Dump Sodexho Campaign at UCSC (Filmmakers: Sabina Gonzalez & Max Krochmal, 2004, 12 min)
<!IMG SRC=./images/sodexho.jpg WIDTH="150"> UCSC campus staff, faculty & students joined in a campaign that booted multi-national food service corporation Sodexho Marriott off campus in 2003 because of unfair labor practices. The workers gained the security of becoming university employees and union members.
Link to Resist page on student activism against Sodexho Mariott.

Starting with Health Care: Building Solidarity in the Safeway Struggle (Filmmakers: Evelyn Richards & Jamie Radenbaugh, 2004, 15 min)
<!IMG SRC=./images04/safeway.jpg WIDTH="150"> Santa Cruz County labor and community activists supported the 5-month strike by 70,000 Southern California grocery workers during the winter of 2003-04. This locally produced film examines Santa Cruz area activism, with footage of picketing the Mission street Safeway.
Link to unions' Coalition to Save Health Care website.

The Making Of Mr. Smith Goes to Obscuristan (Producer: Ideas In Motion, 2002, 30 min)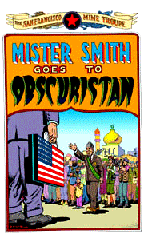 The San Francisco Mime Troupe has its local faithful following who turn out for its traveling performance each summer in the San Lorenzo Park. This is the first cut of a film that shows the Troupe's process of creating a play, something they do at least once a year. Josh Kornbluth was a guest writer working with the troupe on Mr. Smith. The film starts with the first script meeting and goes through costumes, sets, fights, music, pressure, and finally, on opening day, a product.
Link to San Francisco Mime Troupe website.

Germinal (Director: Claude Berri, 1993, 170 min)

Gorgeously photographed adaptation of an Emile Zola novel about a 19th-century French miners' strike. An out-of-work railway worker comes into town and by sheer luck has secured a job in the local mine. He strikes up a friendship with an older miner. When conditions in the mine get worse, the two men organize a strike. The bosses bring in soldiers to deal with the strikers and tragedy follows. Director Berri dedicated the movie to his union-activist father. Zola's novel was an eloquent protest against the inhuman working conditions common in late Nineteenth-Century European factories and mines. French with subtitles.
Link to Internet Movie Database (IMDb) page for Germinal.

Made In Thailand (Directors: Eve-Laure Moros and Linzy Emery, 1999, 33 min)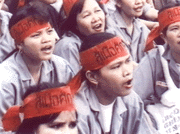 In Thailand, women make up 90 percent of the labor force responsible for garments and toys for export by multinational corporations. This powerful, revealing documentary about women factory workers and their struggle to organize unions exposes the human cost behind the production of everyday items that reach our shores. Probing the profound impact of the New World Order on the populations that provide the global economy with cheap labor, Made in Thailandalso profiles women newly empowered by their campaign for human and worker's rights. Several of these women are survivors of the 1993 Kader Toy Factory fire, one of the worst industrial fires in history. Today they are highly effective leaders in the grass-roots movement mobilizing workers in their recently industrialized country.
Link to Women Make Movies catalog page for Made In Thailand.

The Hidden Face of Globalization (Producer: National Labor Committee, 2003, 34 min)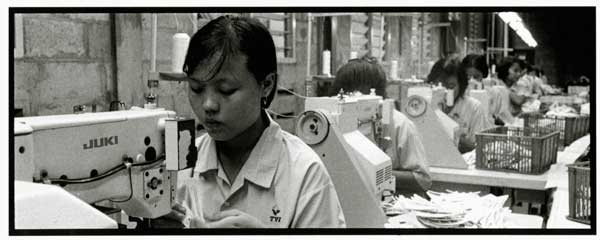 Ever wonder where the cheap clothes at Wal-Mart or the ubiquitous Disney products come from? This revealing documentary examines the sweatshop conditions in garment factories in Bangladesh where many of these goods are made by predominantly women workers who are paid less than 17 cents an hour. Includes unprecedented footage from inside factories that produce for some of the largest corporations in the world. A powerful window into the real impact of the global economy. A Crowing Rooster Arts Production.
<!a href=http://www.filmforum.com/films/modern.html target=_blank> <!Link to Film Forum page for <!i> <!The Hidden Face of Globalization.

Love, Women and Flowers / Amor, Mujeres y Flores (Director: Marta Rodriguez, 1988, 58 min)

Flowers are Colombia's third largest export. Behind the beauty of carnations sold in the U.S. is a horror story of hazardous working conditions for 60,000 women who labor in the flower industry. The use of pesticides and fungicides, some banned in the developed countries that export them, has drastic health and environmental consequences. This beautiful and powerful documentary is the final collaborative effort of Marta Rodriguez and her husband Jorge Silva. The filmmakers evoke the testimonies of the women workers and document their efforts to organize with urgency and intimacy. Spanish with English sub-titles.
Link to Women Make Movies catalog page for Love, Women and Flowers.

Uprooted: Refugees of the Global Economy / Desarriagados (Directors: Sasha Khokha, Ulla Nilsen, Jon Fromer, and Francisco Herrera, 2001, 28 min)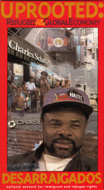 This documentary weaves together the stories of three immigrants into a compelling tale of how the global economy (including U.S. corporations and the International Monetary Fund) has forced immigrants to leave their home countries. Maricel is one of thousands of women encouraged by the Philippine government to work abroad as a domestic in order to pay its international debt. Her employer, a top New York corporate executive, refused to pay her the minimum wage. Free trade destroyed Jessy and Jaime's family business in Bolivia; they came to the United States and worked as janitors despite their engineering degrees. Luckner left Haiti after working for 14 cents an hour at a US-owned baseball factory that moved to China, in search of cheaper labor costs. These powerful stories raise critical questions about U.S. immigration policy in an era when corporations cross borders at will. Voted Best of the Fest at Cine Latino Festival, 2002. Produced by the National Network for Immigrant and Refugee Rights. Bilingual with Spanish and English sub-titles.
Link to National Network for Immigrant and Refugee Rights page for Uprooted: Refugees of the Global Economy.

From Wharf Rats to Lords of the Docks (Actor: Ian Ruskin, 60 min)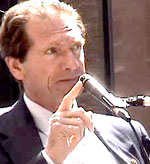 This one-man play performed live by Ian Ruskin is a human portrayal of Harry Bridges' passion, struggles, and wicked sense of humor. It features many of his own words—from his rallying speeches of the 1930's to his electrifying testimony at his trials—and covers his life from his childhood in Australia until near his retirement in the 1970's. It includes the 1934 General Strike in San Francisco, his hearings and trials, his marriages and divorces, the constant controversy of a union involved in social and political issues here and abroad, and the groundbreaking Mechanization and Modernization agreement. It features rare labor songs and political parodies, and is an exciting and entertaining way to explore 50 years of American history. This theatre performance is an element of The Harry Bridges Project, which has been organized to promote the legacy of this important labor leader and to aid in educating the next generation.
Link to The Harry Bridges Project website.

The Bus Riders Union (Director/Cinematographer: Haskell Wexler, 1999, 86 min)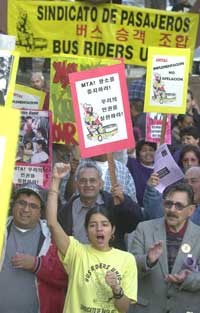 An uplifting and complex portrayal of one of the biggest—and most unlikely—civil rights and mass transit grassroots organizations in the U.S. Numerous multiracial leaders, mostly women, take on Los Angeles' $3 billion transit agency with passion, humor and endless sarcasm—and win. Wexler captures the joy of struggle on the part of a polyglot group, the poor and minority bus riders, who never lost their humanity in the 4-year effort, which was a project of the LA Labor/Community Strategy Center.
Link to the Bus Riders webpage.