• FILMS • 2011 •
ANNE BRADEN: SOUTHERN PATRIOT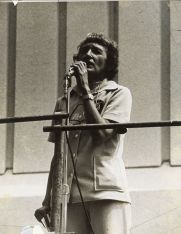 (Anne Lewis & Mimi Pickering, 2011, 65 min)
A civil-rights leader in Louisville and throughout the South for more than five decades, Anne Braden fought tirelessly for desegregated schools, open housing, equal policing, gay rights, an end to police brutality, peace, social and economic justice, and black liberation. Although branded as a communist, arrested for sedition and denounced by politicians, Braden continued to organize marches and demonstrations, campaign door-to-door, and build coalitions even after turning 80. Lewis and Pickering's film chronicles Braden's life through interviews and historical footage. Link to filmmaker Anne Lewis' webpage which features Anne Braden: Southern Patriot.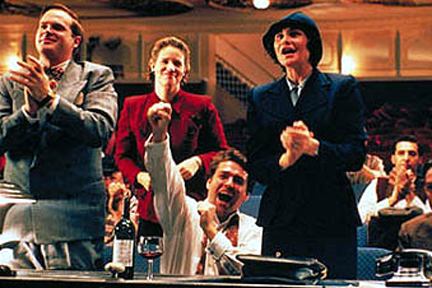 CRADLE WILL ROCK
(Tim Robbins, 1999, 135 min)
Chronicle of the events surrounding the production of Orson Welles' 1937, pro-union operetta. Robbins adapts history to create this drama, commenting on the role of art and power amidst the struggles of the1930s labor movement. Cradle will rock connects true events, from Diego Rivera's doomed mural in the Rockefeller Center to the hearings of the House Un-American Activities Committee to the Federal Theater Project, to relive an exciting and dangerous time in American history, when individual courage prevailed against censorship, and artists risked their livelihood by continuing to perform and paint according to conscience. Link to the IMDB webpage on Cradle Will Rock.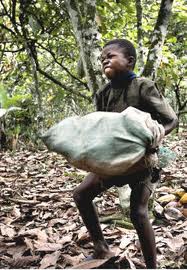 THE DARK SIDE OF CHOCOLATE
(U. Roberto Romano & Miki Mistrati, 2010, 47 min)
Is the chocolate we eat produced with the use of child labor and trafficked children? The journalist-filmmakers traveled to West Africa where their surreptitious footage revealed these illegal practices in Ivory Coast, which produces 40 percent of the world's chocolate. Link to website and trailer for The Dark Side of Chocolate.
FREEDOM RIDERS
(Stanley Nelson, 2010, 113 min)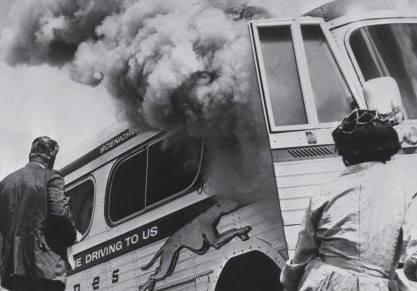 Segregation seemed to have an overwhelming grip on American society in the early 1960s. Many states violently enforced this policy, while the federal government, under the Kennedy administration, remained indifferent, preoccupied with matters abroad. That is, until 1961, when an integrated band of college students—many of whom were the first in their families to attend a university—decided, en masse, to risk everything and buy a ticket on a Greyhound bus bound for the Deep South in order to challenge the inequality and injustice of institutionalized racism. They called themselves the Freedom Riders, and they managed to bring the President and the entire American public face to face with the challenge of correcting civil-rights inequities that plagued the nation.
Veteran filmmaker Stanley inspirational documentary is the first feature-length film about this courageous band of civil-rights activists. Gaining impressive access to influential figures on both sides of the issue, Nelson chronicles a chapter of American history that stands as an astonishing testament to the accomplishment of youth and what can result from the incredible combination of personal conviction and the courage to organize against all odds.
Freedom Riders airs May 18, 2011 on PBS' American Experience. Check your local listings on KTEH and KQED. Link to PBS website and trailer for Freedom Riders.
HARVEST OF LONELINESS: THE BRACERO PROGRAM
(Vivian Price and Gil González, 2011, 58 min)
From 1942 to 1964, millions of Mexican men were imported to the U.S. as cheap, controlled and disposable workers in the Bracero Program, one of the largest state-managed migrations in history. In addition to the harsh conditions suffered by the workers, the film also documents the impact on wives and families in rural villages virtually emptied of men. Link to the website and trailer for Harvest of Loneliness.
INSIDE JOB
(Charles Ferguson, 2010, 120 min)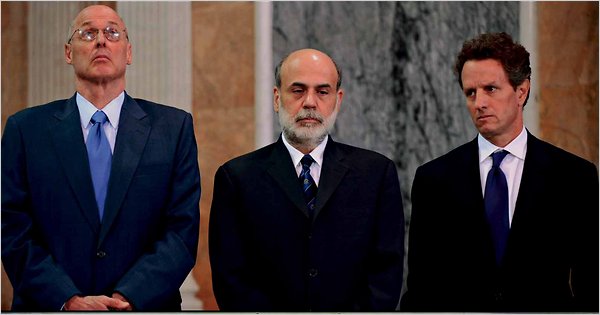 A comprehensive analysis of the global financial crisis of 2008, which at a cost over $20 trillion, caused millions of people to lose their jobs and homes in the worst recession since the Great Depression, and threatened global financial collapse. Through exhaustive research and extensive interviews with key financial insiders, politicians, journalists, and academics, the film traces the rise of a rogue industry which has corrupted politics, regulation, and academia. Winner of the Oscar for Best Documentary. Link to the website for Inside Job.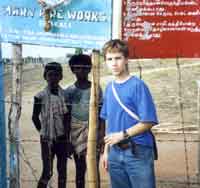 IT TAKES A CHILD
(Judy Jackson, 1998, 56 min)
The inspirational story of Free The Children founder Craig Kielburger and the birth of his lifelong human rights mission. Witness the beginning of an international movement as Craig documents his journey to some of the world's worst sites of child labor and poverty. Link to Bullfrog Films webpage on It Takes A Child.
LOCKED OUT
(Joan Sekler, 2010, 92 min)

This David and Goliath story takes place in the desert town of Boron, California, where 470 unionized borax miners were locked out of their jobs and replaced by scabs in January 2010 by their employer, Rio Tinto. Like many other multinationals, this giant mining corporation wanted to cut wages, benefits and pensions, and essentially destroy the middle class. But the workers organized against this greedy corporation and finally won their right to a decent contract. Link to website for Locked Out.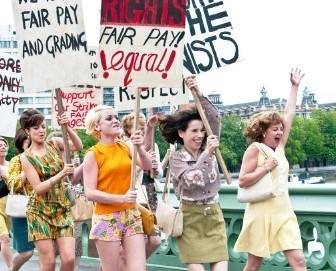 MADE IN DAGENHAM
(Nigel Cole, 2010, 113 min)
Women workers in an English Ford factory in 1968 strike for equal pay. This inspiring new film based on a true story has been called a British NORMA RAE. Stars Sally Hawkins, directed by Nigel Cole. Reviewer David Gee wrote, "These girls make you laugh, they occasionally bring a lump to your throat, but most of all they make you want to cheer." Link to the website and trailer for Made In Dagenham.
OCCUPATION HAS NO FUTURE
(David Zlutnick, 2010, 84 min)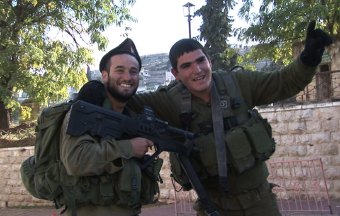 Through conversations with former IDF soldiers, Israeli conscientious objectors, and Palestinian grassroots organizers, this documentary studies the social environment created by Israeli militarism, examines the occupation of the West Bank, and explores the work of Israelis and Palestinians organizing against militarism and occupation. Link to Upheaval Productions webpage on Occupation Has No Future.
PHIL OCHS: THERE BUT FOR FORTUNE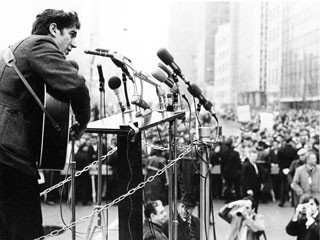 (Kenneth Bowser, 2011, 97 min)
The folk singing legend who many called "the emotional heart of his generation" loved his country, and he pursued its honor in song and action with a ferocity that had no regard for consequences. Wielding only a battered guitar, a clear voice and a quiver of razor sharp songs, he tirelessly fought the "good fight" for peace and justice throughout his short life. His lyrics from the Vietnam War era remain disturbingly apt today. Link to the website and trailer for the Phil Ochs movie.
PHILOSOPHER KINGS
(Patrick Shen, 2009, 70 min)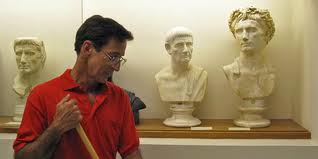 The personal insights and life stories of janitors working the halls of the most prestigious colleges and universities in the U.S. offer a down-to-earth wisdom of survival that is commonly disregarded and ignored by mainstream society. Link to the website for Philosopher Kings.
THE PRICE OF CHILDHOOD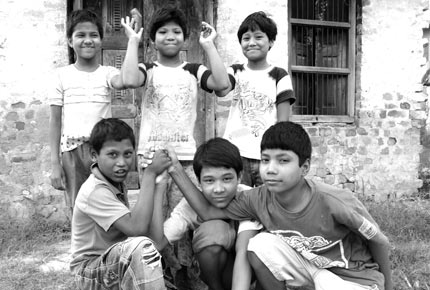 (Kan Yan, 2010, 53 min)
The common practice of child labor and trafficking in Nepal is explained through the narratives of those who live it—children, parents, owners, activists, and government officials. This documentary film aims to assist in improving the lives of those who suffer by increasing the understanding of the situation from these various perspectives. Link to the website for The Price Of Childhood.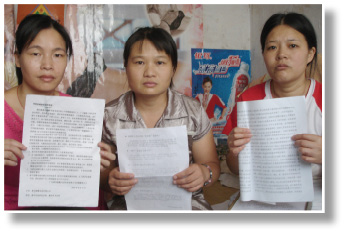 RED DUST
(Karin Mak, 2010, 20 min)
This documentary tells the incredible story of resistance, courage, and hope by women workers in China battling cadmium poisoning and demanding justice from the local government and their employer, a multinational battery manufacturer. Link to the website for Red Dust.
RORY O'SHEA WAS HERE
(Damien O'Donnell, 2004, 104 min)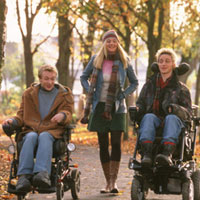 Two residents of a Dublin nursing home with significant disabilities strike up a friendship when Rory learns to understand the unintelligible speech of Michael, who was left in the shelter by his father due to his cerebral palsy. They engineer an exit from the institution's overbearing rules with a move to an independent living apartment, which is made possible by the company of a loving personal care attendant. The film highlights the challenges of daily living faced by care providers and their recipients. Link to Internet Media Database webpage for Rory O'Shea Was Here.
SCENES FROM A MARCH
(Fred Glass, 2010, 21 min)
The day after rallies statewide on March 4, 2010, teachers, homecare aides, and many other workers set off on a "March for California's Future," a 48-day, 250-mile trek from Bakersfield in the San Joaquin Valley to Sacramento, initially organized by the California Federation of Teachers to support progressive tax policies and save services. Link to the Labor Notes article on the march.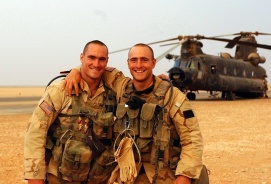 THE TILLMAN STORY
(Amir Bar-Lev, 2010, 94 min)
Pat Tillman gave up his professional football career to join the Army Rangers in 2002—and became an instant symbol of patriotic fervor and unflinching duty. But the truth about Pat Tillman is far more complex, and ultimately more heroic, than the caricature created by the media. And when the government tried to turn his death into war propaganda, they took on the wrong family. From her home in the Santa Cruz mountains, Pat's mother, Mary Tillman, led the family's crusade to reveal the truth beneath the mythology of their son's life and death. Link to the website for The Tillman Story.
TOO HOT FOR A TEACHER
(Eric Appel, 2010, 3 min)
Hollywood actors Megan Fox and Brian Austin Green help dramatize the school crisis with a little humor.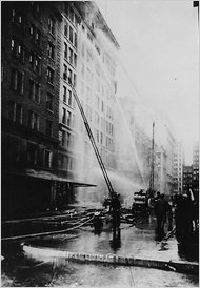 TRIANGLE FIRE
(PBS American Experience, 2011, 60 min)
The deadliest workplace accident in New York City's history in which 146 innocent immigrant women workers perished occurred just one hundred years ago. In spite of vigorous union organizing drives which had improved hours and pay, owners ignored workplace safety until this tragedy roused public opinion and laws were passed. Link to the PBS website for Triangle Fire.
WAY DOWN IN THE HOLE
(Alex Johnston, 2010, 40 min)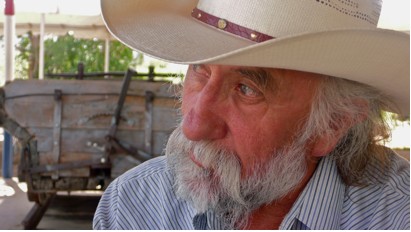 With an aesthetic style that blurs the line between past and present, this documentary tells the story of the bloody Ludlow, Colorado coal miners' strike of 1913-1914, and illuminates its significance to contemporary social justice movements. The film is a meditation on class struggle, national identity, and violent insurrection, played out across the wild frontier of the industrial American west. Link to UC Santa Cruz Social Documentation Program webpage on Way Down In the Hole.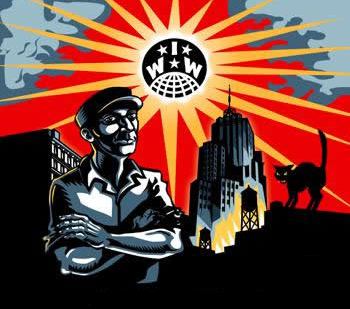 WOBBLY SAN DIEGO
(Fred Glass, 2010, 8 min)
The film portrays events in San Diego in the early part of the last century when government and big business used suppression of free speech rights and brutality to shut down union organizing.