• SPEAKERS, FILMMAKERS & PERFORMERS • 2014 •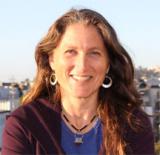 Regan Brashear has been working for over twenty years on labor, race, youth, LGBTQ, and disability issues through directing and producing documentary film, union organizing, community forums, and grassroots activism. Now based in Oakland, CA, Brashear is a co-founder of Making Change Media which produces videos for non-profits and labor unions, as well as independent long-form documentaries such as <!a href="films.htm#fixed"> Fixed, screening May 1. Brashear has a BA in American Studies (Highest Honors, Phi Beta Kappa) and a MA in Social Documentation (Documentary Film) from the University of California, Santa Cruz. Her interest in disability studies which eventually led to the making of Fixed, started in 1997, after a car accident which began an ongoing journey with fibromyalgia and chronic pain. She finished editing Fixed last spring as a visiting filmmaker at the Consortium for Science, Policy and Outcomes at Arizona State University.
Peter Connery is Vice-President and CFO of Applied Survey Research based in Watsonville. He directs ASR's work in the area of homelessness, including homeless census and surveys which have been cited by the United States Department of Housing and Urban Development as a best practice.
Ken Dickerson first became involved with the Ecological Farming Association nearly twenty years ago as a volunteer for the EcoFarm Conference. This led to participation on the Conference Planning Committee, staff, and the Board of Directors. Ken worked for ten years as a high school ecological agriculture instructor in Santa Cruz County bringing EcoFarm to school with a garden, greenhouse and culinary program. Ken now serves as the Executive Director, working with the association to continue to realize a healthy, safe and socially just food and farming system. Ken is working to actualize models of associative economics through the food and farming system that can provide for social and economic justice.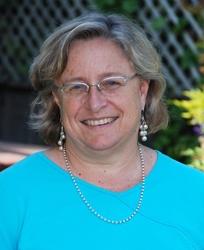 Dana Frank teaches about labor history and social movements at UC Santa Cruz and is the former director of its Center for Labor Studies. She is the author of several books, including Bananeras: Women Transforming the Banana Unions of Latin America, Local Girl Makes History, and, with Howard Zinn and Robin D.G. Kelley, Three Strikes. She is a member of AFT Local 2199 and the Santa Cruz Faculty Association, and has long been active in labor solidarity work in the U.S. and Central America. Since the 2009 military coup in Honduras, she has written regularly about human rights and U.S. policy in Honduras for a wide range of publications including The Nation. Frank has presented at several Reel Work events over the years.
Obdulia "Lu" Hernandez is a veteran of the Salinas Valley Cooperative Movement. She came to the United States in 1965. After working for 12 years at a packing shed, she was referred to the Salinas Employment Development Department for retraining after suffering a back injury. Later she earned her General Equivalency Diploma at the Salinas Adult School. She was hired and trained in bookkeeping for a business that became the first farmers cooperative when her boss sold it to the share croppers who formed Cooperativa Central. In 1979, Lu started working with Confederación Agrícola, organization in charge of marketing, bookkeeping, accounting and management of 10 cooperatives. Confederación Agrícola small staff worked tirelessly on a proposal for the formation of Cal Coastal, which would be used as a financing vehicle. In 1982, the Office of Small Business chartered Cal Coastal as a financial development corporation. Shortly thereafter, Confederación Agrícola formed Pueblo Cooling. Unfortunately, Pueblo Cooling did not survive as an entity. Cal Coastal continues in its mission to provide financing to farmers. Lu served as the Chair of the Board of Cal Coastal, Director of the National Rural Development and Finance Corporation and as a member on the Loan Review Committee of Farmers Home Administration. She was also an advisor for Agricultural Cooperatives in California (National Consumer Cooperative). Hernandez will join a panel to discuss the film Shift Change.
Annette March is an ethnographic researcher on projects exploring issues of social justice. She is a volunteer and writing group facilitator at the Homeless Services Center, and is a retired faculty member, Division of Humanities and Communication, California State University Monterey Bay. As project director of Not the Other: Oral Histories of People Experiencing Homelessness, she coordinates all aspects of the project.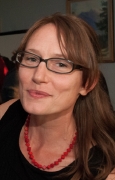 Sam Mayfield is a video journalist and documentarian from Burlington, VT. She has filed video reports for Democracy Now!, Free Speech TV, GritTV, The Uptake, Towardfreedom.com, and other progressive media outlets. She was arrested filming the Madison protests against Governor Scott Walker. Ms. Mayfield is dedicated to making media that challenges the existing corporate media paradigm and that sheds light in dark places. Her film <!a href="films.htm#wisconsin"> Wisconsin Rising screens May 3.
Ross Newport was one of the original founders of Community Printers in 1977. Today the worker-owned cooperative and union shop has become the largest full color commercial printer in Santa Cruz County.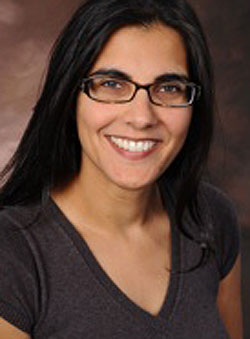 Zahida Pirani is an independent filmmaker who studied nonfiction filmmaking at Columbia University as a Charles H. Revson Fellow. Her work is informed by her many years of experience as a community organizer on immigrant and worker rights issues in New York City. She is the former Director of the New York Civic Participation Project, a labor-community collaborative project of La Fuente, Inc. that works with various immigrant rights organizations and labor unions in New York and surrounding areas. Zahida has taught as an adjunct professor at CUNY's Murphy Institute for Worker Education and Labor Studies. She holds a Bachelors degree from U.C. Berkeley and an M.A. in Social and Cultural Anthropology from the New School for Social Research. Her film, <!a href="films.htm#judith"> Judith: Portrait of a Street Vendor, screens April 26.
<!img src="images/Meche ansores.jpg" alt="Meche Sansores" xwidth="" height="150" align="right" border="0" hspace="5"> Meche Sansores is Executive Director of WAGES (Women's Action to Gain Economic Security), a successful worker-owned green business for low-income women. WAGES works primarily with Latina immigrants to form housecleaning cooperatives that emphasize environmentally friendly cleaning techniques as a way to protect worker health and the environment, while capitalizing on a lucrative market niche. Meche joined WAGES in November 2011 after running economic development programs serving the Latino community throughout the San Francisco Bay Area since 1993. Meche has pursued her core passion for advancing the economic empowerment of women in many arenas. During her leadership of the ALAS Program (at Women s Initiative for Self Employment), ALAS reached over 1,300 Latinas and evolved into a nationally-recognized and award-wining microenterprise development program. Meche also served as Business Technical Assistance Program Manager at Lenders for Community Development, as Microenterprise Development Manager at the Unity Council, and as the Business Development Program Lead at the Mission Economic Development Agency (MEDA). Meche s consulting projects have included program development for La Cocina Kitchen Incubator Project in San Francisco, assessment of needs for a commercial corridor in San Jose California, and program and curriculum development as well as training projects throughout California. For her innovation and dedication, Meche s work was honored with the Small Business Advocate of the Year 2000 award by the Small Business Administration (SBA). Under Meche's leadership, the ALAS program was also recognized in the 2000 US Presidential Award for Excellence in Microenterprise Development. Meche is a native of Veracruz, Mexico, where she received her CPA accreditation and Diploma in Public Accounting and Auditing from the University of Veracruz. She will join a panel to discuss the film Shift Change.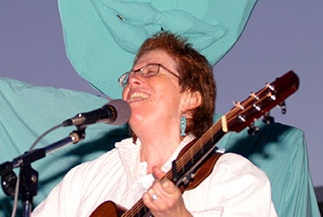 Aileen Vance, accomplished singer and songwriter, member of the American Federation of Musicians, Local 1000, and Santa Cruz native, shares Pete Seeger's fondness for encouraging others to sing, which she does masterfully as director of the Santa Cruz Peace Chorale.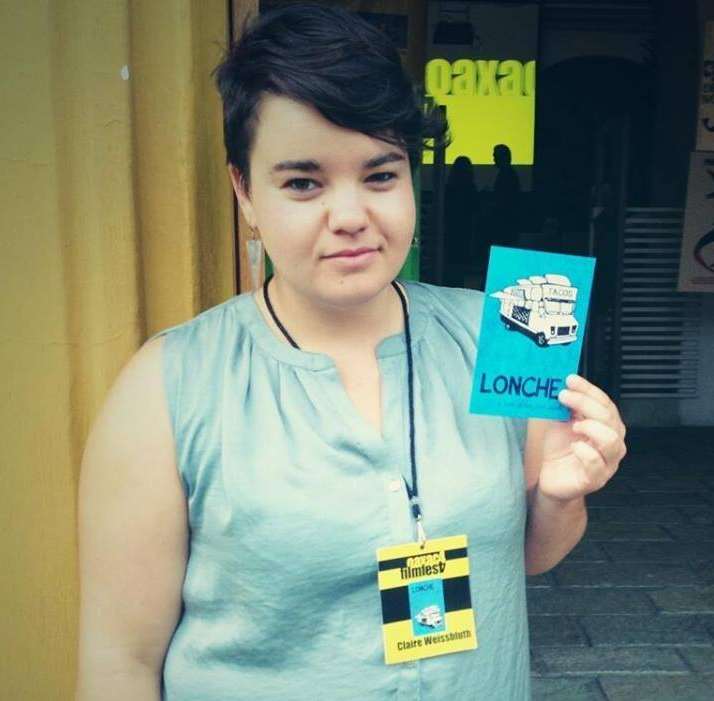 Claire Weissbluth is a documentary filmmaker based in the San Francisco Bay Area and a graduate of the Social Documentation Master's program at UC Santa Cruz. <!a href="films.htm#lonche"> Lonche, screening April 26, is her second film, following El Mar Picando En Sus Espaldas, her undergraduate thesis documentary at Hampshire College filmed in Havana, Cuba. Claire is currently a contributor to the blog Mission Local where she is continuing to pursue her interest in telling stories about food, labor and entrepreneurship.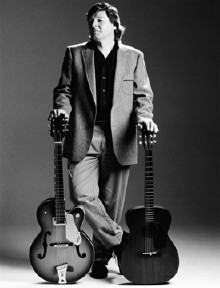 David Winters has been performing professionally for more than 20 years. An accomplished vocalist and guitarist, he is an officer in the American Federation of Musicians, Local 153, and long-time coordinator of the Western Workers Labor Heritage Festival. He has performed at Reel Work events since its inception.